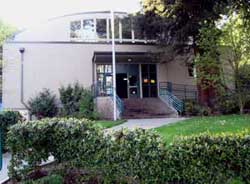 653 NW Culpepper Ter
Portland, OR 97210
Phone: (503) 823-3181
Includes basketball court – indoor, community center, meeting room – reservable and party room – reservable.
Designed in the 1940s by noted local architect Pietro Belluschi, the community center originated as the Catlin Gabel School. After the school moved, the Portland Art Association purchased the property for use as an artists' cooperative.Finding the property too costly to maintain, the Art Association decided to sell it, and word spread that the most likely buyer was a developer of condominiums. Since many of the homes in the area are situated on steep lots with no backyards, residents felt that the site would be better used as a park and community center. The problem, of course, was money. The community was given a year to raise $106,500 to purchase the land and the buildings on it. After an exhaustive neighborhood fundraising effort, plus contributions from the City Council and private foundations, the community was still $25,000 short.To make up the difference, twelve families, sometimes referred to as the 'Trembling Twelve,' took out second mortgages on their homes to guarantee the loan that finalized the purchase. In spring of 1974, the neighbors turned the property over to the City of Portland, which accepted it as a public park and agreed to maintain it and staff a community center there.
To create more open space, PP&R razed all the buildings except the old gymnasium, and constructed tennis courts, a soccer field, and play areas. The gym itself was remodeled, with care taken to preserve the building's exterior beauty.
Hillside Community Center – Fall 2012 Catalog

Hillside Community Center – Winter 2013 Catalog